Power the full potential of your BMW i7
Unlock infinite possibilities with 3 years of complimentary charging from the date of vehicle purchase at Electrify Canada ultra-fast DC chargers—compliments of BMW.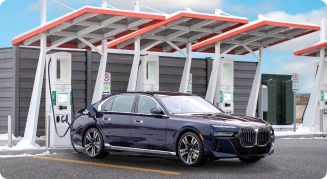 Evolve with Electrify Canada
Electrify Canada is committed to building a network of convenient and reliable electric vehicle charging stations—at strategic locations in metropolitan centres, along major highways and near popular amenities—to help get electric vehicle (EV) drivers where they want to go. Because we know your BMW i7 wasn't made to stay in the garage.
With 3 years of complimentary charging across all Electrify Canada DC Fast charging stations after vehicle purchase and enrollment , BMW i7 drivers can focus on the roads and possibilities ahead, leaving gas stations behind.
Locate a Charger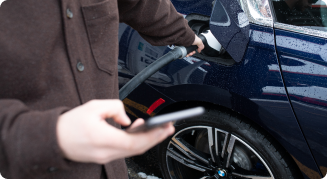 Take Charge
Get going with complimentary direct current (DC) fast charging, for 3 years at Electrify Canada chargers. Just follow these simple steps:
Step 1: Download the Electrify Canada app , create your account and select "Set Up Public Charging."
Step 2: Select "Choose Membership Plan" then "Premium Offers."

Or, search for Premium Offer by vehicle information.
Existing Electrify Canada members may select "Premium Offers" in the Account tab, then "I have an enrollment code."

Step 3: Input your 10 character enrollment code, which you will receive from your BMW dealer, and select the BMW i7 Charging Plan. Input your vehicle 17-digit VIN for verification.
Step 4: Accept Plan Disclosure, then tap "Select this plan."
Step 5: Enter payment info and set up auto-reload.

You will need to enter a payment method to cover any incurred Idle Fees or applicable taxes.
Offer enrollment can be as smooth as your journeys, but if you encounter any roadblocks, call 1-833-231-3226 to contact Electrify Canada Customer Assistance, available 24/7.
Go with freedom
The alluring BMW i7 gets you smart, bold mobility. It can charge at up to 195 kW .
And with this level of electric performance, plus 3 years of complimentary charging at Electrify Canada DC Fast chargers , when you explore the network with the fastest public chargers available in Canada , it won't matter where you're coming from, only where you're going.
Locate a Charger